Your questions answered by Natalia Pogonina-10
Written by Natalia Pogonina
Saturday, 29 May 2010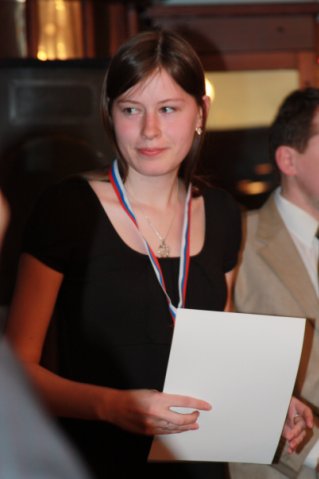 It's time for the weekly Q&As! Feel free to
send me
new ones:



Q1: I'm an adult who loves chess and wants to become a GM. How do I do that? Should I obtain a rating or something?


A1: Normally it takes at least 10 years to become a grandmaster (given the proper environment, talent, a lot of time invested, good coaching, etc.). Also, even this title doesn't ensure a comfortable life by itself. Therefore, I don't want to say you won't be able to do it, but rather point out that there is no real sense in going for it. Moreover, if you really love chess, you will be practicing and studying for the sake of doing it, not for getting a diploma and boasting among your friends.

Q2:

I am a casual chess player, but I'm interested in entering a tournament. What tips would you suggest a beginner such as me to prepare for my first tournament?


A2: First of all, you should make sure you are familiar with the rules of
playing in a tournament. During casual games some people chat, neither write
the moves down nor use chess clocks, ignore the "touch-move" rule, etc. Playing in a chess
event is a different experience. Therefore, you had better visit some
tournaments to see how things are going there, talk to a friend or read a
book on this.

Secondly, start solving tactics each day before the event (for maybe a
week or two) to be in your top shape. Revise your openings (if there is
anything to revise, of course). Make sure you are entering the type of
competition that suits you. Not too strong, not too weak.

Good luck in your first chess competition!



Q3: Have you considered writing any books?


A3: We are working on the Chess Kama Sutra

& will also release a book on tactics from my games (a bit later).





Q4: Would you agree not to play chess anymore for a few billion dollars?


A4: Yes, and I would have spent most of the money on chess. The fate of the whole chess world is by far more important than my personal chess career.



Q5: May trying to play like a computer ruin your intuition?


A5: When analyzing with a chess engine one has to be careful since it's very easy to switch off one's head entirely and start relying on the engine's suggestions only. One problem is that even chess engines are sometimes wrong (so one has to monitor what they're doing). The second is that this way it's easy to forget how to think for yourself and become weaker in terms of otb play. To avoid that, one has to use an engine as an assistant, not as a guide.



Q6: When is your next event?


A6: I am planning to play in a GM-norm round robin in France at the end of June. Will probably be the only female player in the tournament.
Q7: I never played chess, does that make me a dumb person?
A7: Of course not. However, why not try this wonderful game? I am sure you will like it!




Related articles

:

Your questions answered by Natalia Pogonina-9
Your questions answered by Natalia Pogonina-8
Your questions answered by Natalia Pogonina-7
Your questions answered by Natalia Pogonina-6
Your questions answered by Natalia Pogonina-5
Your questions answered by Natalia Pogonina-4
Your questions answered by Natalia Pogonina-3
Your questions answered by Natalia Pogonina-2
Your questions answered by Natalia Pogonina
Last Updated ( Saturday, 29 May 2010 )